ZIRCONIA CROWNS & METAL CERAMIC CROWNS

ZIRCONIA CROWNS
Zirconium crowns and bridges are so strong they can be used anywheree in the mouth. Zirconium crowns can withstand the biting pressure of the front teeth as well as back teeth grinding. The look of zirconium crowns and bridges is so close to natural teeth that it is hard to tell the difference and it is this quality which makes it very useable within dental work. Zirconium crowns can be fixed using traditional dental cements.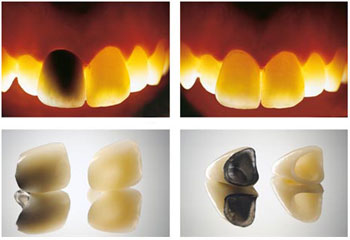 METAL CERAMIC CROWNS
Another name for this is a 'porcelain fused to metal' crown. They consist of a metal interior or base which is fused to porcelain crowns. The metal interior can be produced from a range of metals, e.g. alloy and this is what gives this crown its strength. Dental crowns are restorations that protect damaged, cracked or broken down teeth. A crown strengthens your existing, damaged tooth so as to preserve its functionality.